1. Leggings
They are the most common bottom wear paired with kurtis of all sizes and shapes. So comfy they are that they fit you like a second-skin. And leggings aren't of just one type. You can take your pick from printed leggings, leggings with net detailing, sheer leggings, even leather leggings to show your fashion one-upmanship. Black is not the one and only colour of leggings. There is green, blue, orange, pink, red, purple, cream and everything in between. Whether it is office, club parties, evening or night out, there is a legging for each need.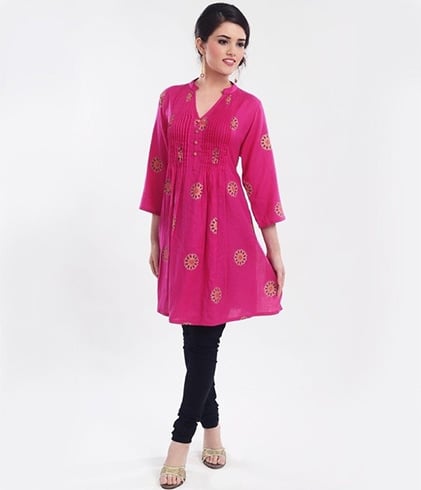 2. Churidar
Any clue why leggings are better off than churidar on most occasions? Because leggings are more flexible to wear, and convenient. But leggings don't have the grace of a churidar. While leggings go well with casual wear, they can be a spoiler when it comes to wearing traditional attire.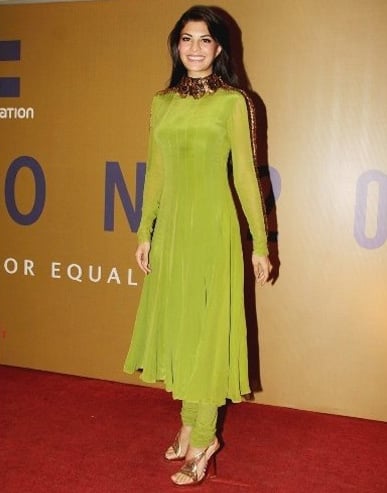 3. Jeggings
Jeans are tough and are un-stretchable (and they come with zip and buttons). Leggings, on the other hand are. Why not have a hybrid between the two? Here comes JEGGINGS.
Jeans in short, jeggings are the most-preferred outfit for college-goers. It bypasses the compulsory zip or button in jeans. All you need to do is pull it on to the waist. That's it. Just pair a neat and crisp cotton kurti (size of the kurti can be short, knee-length or hip-length) or tunic with your beloved jeans (skinny jeans look very sexy) and you are bound to look hotter than ever.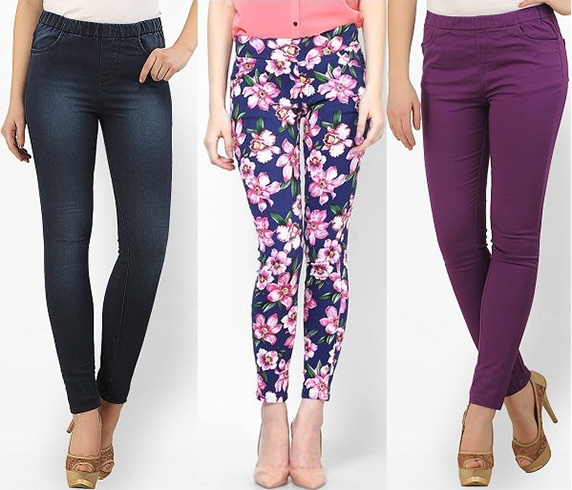 4. Skinny Jeans
Talk of college girls and skinny jeans is high on their shopping list. While T-shirts and tops are a common thing with jeans, kurti is a more adventurous and fashionable option.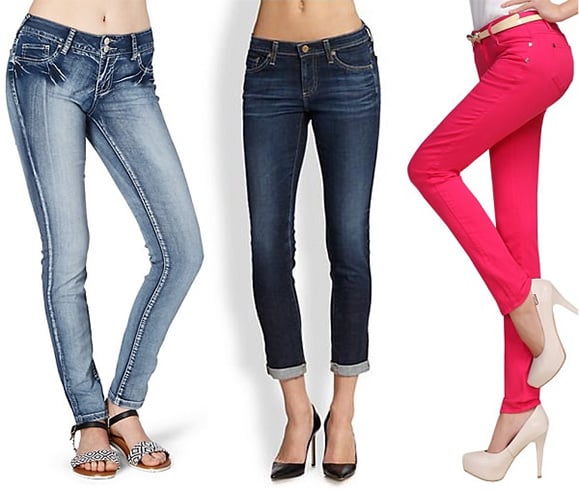 5. Palazzos
HUGE–HUGE TREND they are. The style and cut of the palazzos are un-missable. That's why it is a sure winner for summers. If you want an ethnic look, then pair a long kurti with a palazzo.
Even slit kurtis steal the show when paired with palazzos. If you have a plain and simple kurti, then pick a palazzo with bottom border prints or detailing on the sides.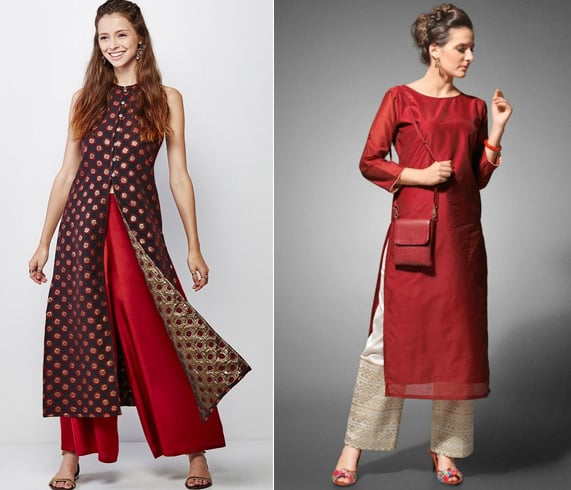 6. Aladdin-Style Salwar
Note from History
Does 'Aladdin salwar' ring a bell? It is coined after the famous cartoon character, Aladdin who used to wear special pants that fall long between legs.
Now, guess the new name of Aladdin salwar? "Bangaroo Salwar" also known as harem pants. Even foreign tourists prefer it for the comfort and style.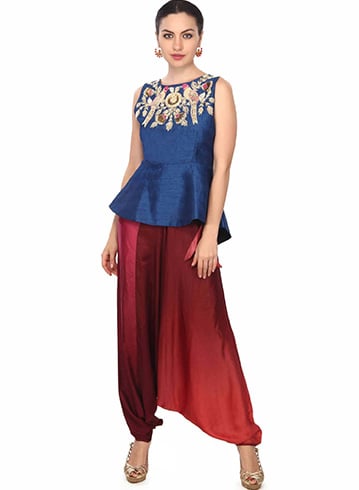 7. Long Skirts
Yeah, not many colleges allow the girls to wear short skirts. Long skirts bridge this gap. Long skirt looks further graceful with a short cotton kurti.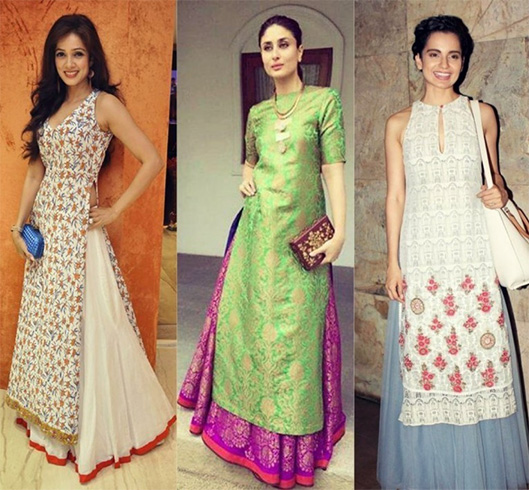 8. Cigarette Pants
Uber cool and on-trend this bottomwear is when paired with kurtis, that they just finish up at the ankle (don't go beyond) and thereby give you a stylish look, instantly. So fashionable, comfy and lightweight they are that you can wear them round the clock. It's right to say that Cigarette pants are for the retro gals.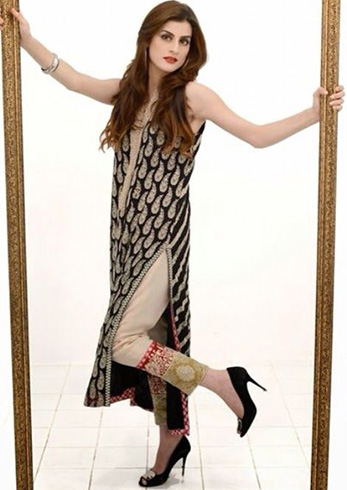 9. Dhoti Pants
These pants with kurti will make you stand out in the crowd for sure. Such is the beauty of Dhoti Salwar. Gets you that perfect Indo-Western look. To avoid looking bulkier, wear dhoti pants with well-fitted kurtis. Not always do dhoti pants have to look simple and plain, you can also go in for embroidered or embellished border style dhoti pants. You can always bring these variations between plain to embellished dhoti pants depending on the occasion and the celebration.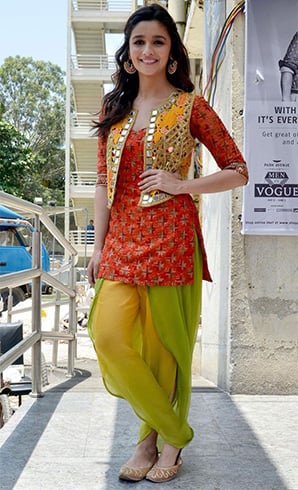 10. Patiala Pants
Guess the Bollywood celebrities who made this different types of bottom wear popular? It started with 'Bebo' Kareena Kapoor Khan in the film Jab We Met, then Anushka Sharma in Band Baaja Baarat, and Kangana Ranaut in Tanu Weds Manu, etc.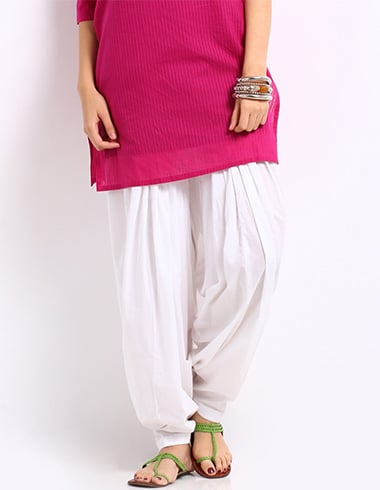 11. Wide-Leg Pants
Dedicated these pants are to the tall-legged beauties. If summers look horrendous to you given the idea of wearing skinny jeans, choose wide leg pants to stay cool.